Station Hintereis
Description
Latitude:

46.798896

Longitude:

10.760373

Altitude:

3031 m a.s.l.
Weather station at Station Hintereis (~30 m north of the hut)
Station setup
Figure 1: Current weather station 20.11.2020
Figure 2: Current weather station with pluviometer 20.11.2020
Figure 3: Old weather station 16.04.2013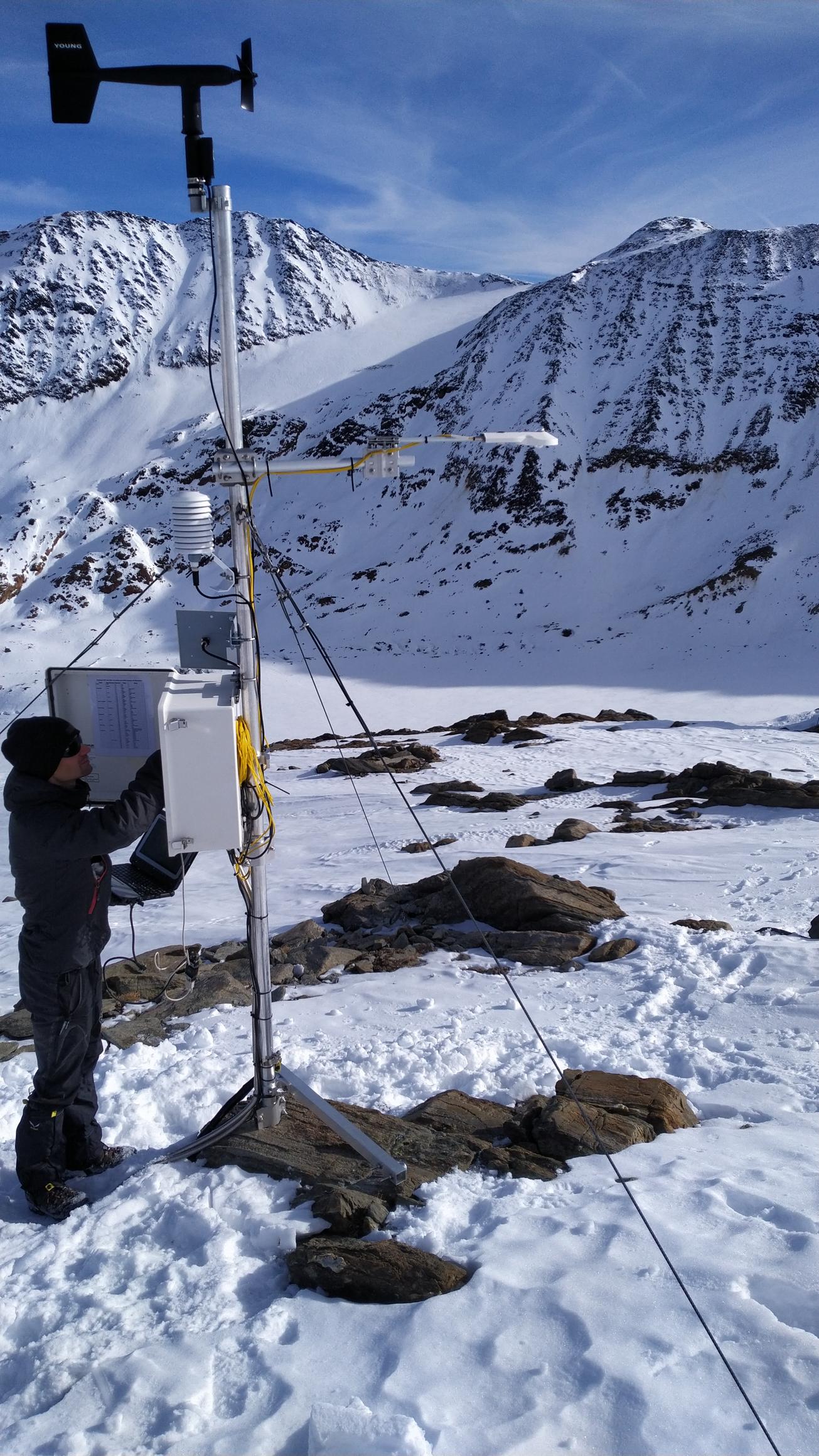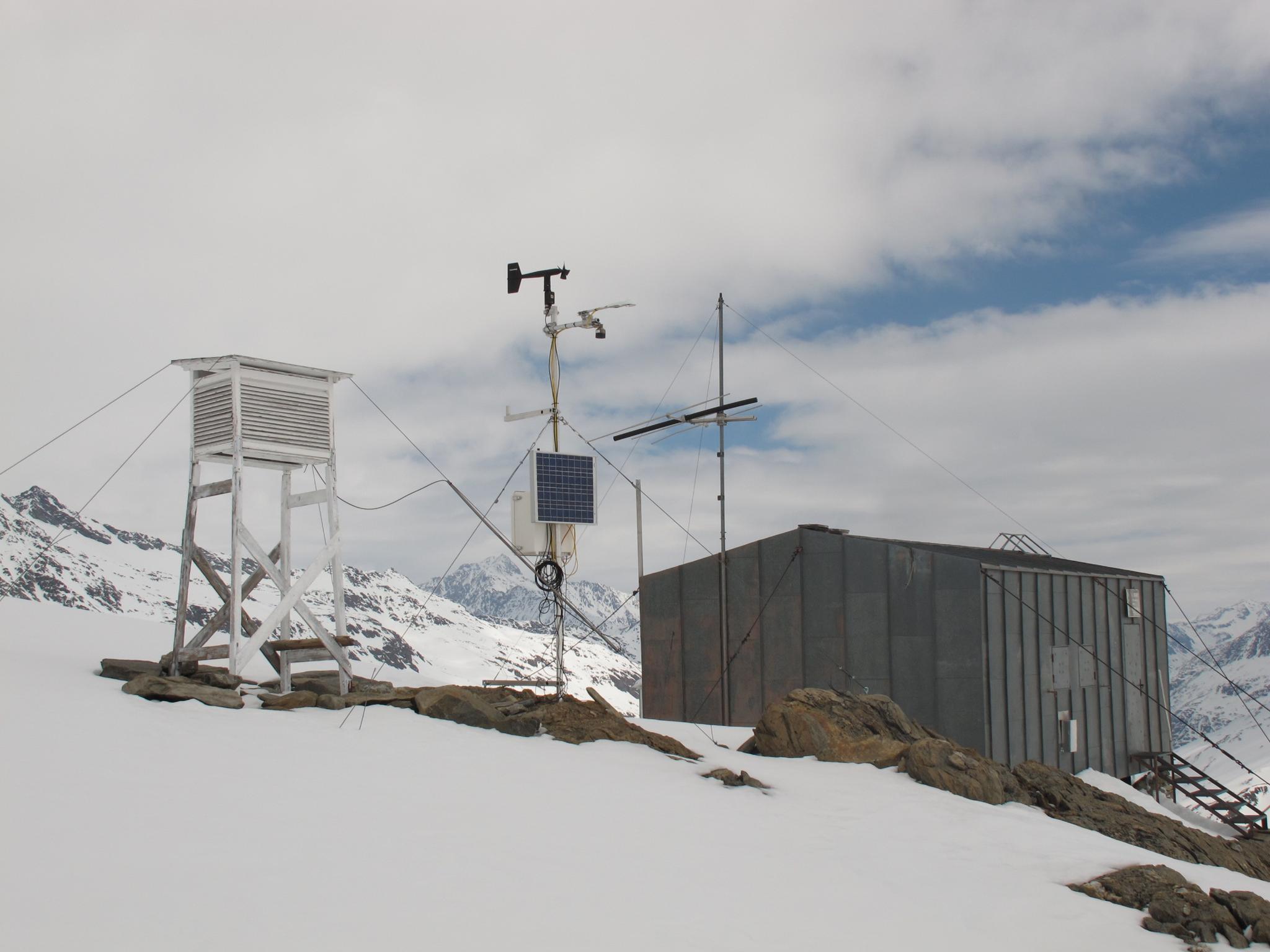 Current Station Equipment (since 01.10.2020)
Logger:

Campbell Scientific CR3000

Air Temperature and air humidity:

Campbell Scientific EE181: Temp, RH unventilated in Met20 unventilated radiation shield; 2.10 m above ground. Before 01.10.2020: Vaisala HMP45c in Stevenson hut; 2 m above ground

Soil/rock temperature:

Three Cambpell Scientific 107 thermistors in depth of 10 cm (TC1, in 5 mm rock crack), 15 cm (TC2, underneath 70x70 cm boulder) and 20 cm (TC3, 10 cm soil/sand and 10 cm gravel). Available since 15.09.2021.

Radiation:

Kipp&Zonen CNR4: four component radiation measurements LWin, LWout, SWin, SWout

Wind sensor:

Young 05103-45 Alpine: wind speed and direction; 3.30 m above ground

Pressure:

Setra278 CS100: atmospheric air pressure

Distance to surface (snow depth)

Campbell Scientific SR50; mounted at precipitation mast; distance to snowfree ground: 2.20 m (unknown for installation before 20.11.2020)

Solid particle flux (wind drifted snow):

ISAW FlowCapt FC4

Preciptiation (separate mast):

Ott Pluvio2L
Station History
07th October 2010: Installation of the station ~10 m west of the hut. Air temperature and humidity probe in Stevenson Screen. (Lat: 46.798613; Lon: 10.760417; 3026 m)
17th August 2017: Pluviometer installed at current location. Lots of data gaps until October 2020.
11th November 2020: Station at current location (~35 m in distance from old location); instruments renewed/replaced
14th September 2021: Soil temperature probes burried (exposed to atmosphere before) and FlowCapt Sensor mounted.
Data Quality notes
Quality issues with soil temperatures from June 2019 (exposed to atmosphere) until 15.09.2021 (newly installed)
No quality value measured for SR50 snow depth before 04.03.2022

Only for dataset PANGAEA: Apply atmospheric pressure correction for values measured before 20.02.2020 13:30 due to wrong offsets and multipliers in logger program

P_corr = P*(0.2/0.24)+((-0.2/0.24*500)+600). Corrected atmospheric pressure values should be around 700 hPa
Datasets
Uncorrected raw data as it is transfered from the logger, no quality checks employed.
Uncorrected raw precipitaion data as it is transfered from the logger, no quality checks employed. Refer to manual https://www.ott.com/download/operating-instructions-precipitation-gauge-ott-pluvio2-l-1/
Uncorrected raw data of wind drifted snow as it is transfered from the logger, no quality checks employed.
Quality controlled and corrected data 07th October 2010 - 01st October 2020 from old AWS (Figure 3). Replacing and extending uncorrected data set PANGAEA.
Uncorrected raw data sets 2010-2012